Glen Carbon & Edwardsville Chiropractor - Meet the Doctors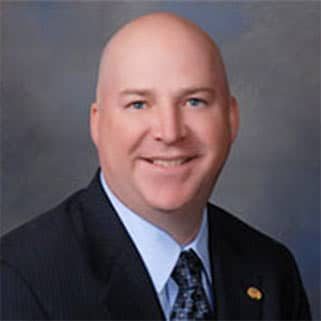 Chiropractor
Thad Vuagniaux D.C
Dr. Thad S. Vuagniaux was born and raised in Edwardsville, IL. He got his Bachelors of Science degree from the University of Illinois and his Doctorate from Logan University. Having played college soccer, he was always interested in health and fitness but it wasn't until being accepted into the Sports Medicine program and U of I did he realize he wanted to become a chiropractor.
In chiropractic school, he was introduced to Upper Cervical Chiropractic and hasn't looked back. After graduating and opening his private practice in the Glen Carbon/Edwardsville area, he was invited to start teaching Upper Cervical to other doctors. He was also the Co-Founder of Upper Cervical Health Centers of America; an international franchise with offices in the United States and Italy. He has been a guest lecturer at hundreds of seminars and programs across the country.
He was elected and served on the International Chiropractic Association's inaugural Council on Upper Cervical Care. Dr. Vuagniaux was instrumental in developing the curriculum for the intensive, 3-year Post-Graduate Diplomat in Chiropractic Upper Cervical Procedures.
He, along with his wife, Dr. Nikki (also an Upper Cervical Doctor), and daughter Kayleigh, live in Edwardsville, IL. In his spare time, Dr. Thad enjoys traveling with his family and friends, boating and riding his Harley Davidson motorcycle.
Chiropractor
Nikki Vuagniaux D.C
Dr. Nikki Vuagniaux was born and raised in the Metro East area as well. Earned a degree at the University of Illinois and owned a graphic design business for a few years before her first Upper Cervical correction. That correction made such a profound impact on her health that she decided to go to Logan University and join her husband in practice. Her interests include fitness, nutrition and natural healing techniques. She enjoys yoga and running and has completed 2 marathons. She enjoys spending time with her family and friends who are the biggest blessings in her life.
Office Manager
Jeanne Krause
Jeanne was born in St. Louis, MO and moved to Granite City, IL with her family when she was 9 years old. After high school, she married her husband Ken and moved to Norfolk, VA where he was stationed with the United States Navy.  
She began working in the medical field while in VA, where she took a position for a Medical Billing company. She specialized in medical coding, billing, insurance verification, and pre-authorization.
Jeanne was introduced to Upper Cervical Care in 2004 when she began working for Dr. Thad and Dr. Nikki Vuagniaux. Little did she know what a huge impact Upper Cervical Care would have on the lives of her family, friends, and countless patients! She proudly celebrated 15 years with Upper Cervical Health Centers in August of 2019. Jeanne takes great pride in her work and brings nearly 30 years of experience to the office.
Her greatest joys in life are her husband of nearly 30 years and her two sons, Justin, age 26 and Ryan, age 23! In her free time, Jeanne loves to be with her family and enjoys traveling, camping, boating, and taking rides with her husband on his Harley. She currently lives in Troy, IL with her husband Ken, and their 9-year-old Boxer, Lexi.
Office Assistant
Jill Doerr
Jill was born and raised in Burbank, CA. Later she moved to the California Central Valley where she worked for the Superior Court of California as a Criminal Supervisor. While working there, she met her husband Jeff and began growing their family.
In the Spring of 2007, they moved back to Illinois to be closer to family. At that time, she opened an in-home daycare which also allowed her to be home with her three kids. After several years of running her daycare and after her daughters graduated from high school, she began to look for work outside of her home.
In 2017, Jill was introduced to Upper Cervical Care when she began working for Drs. Thad and Nikki Vuagniaux. She was amazed to learn how Upper Cervical Care would change her and her family's lives. They have never felt healthier.
Jill currently lives in Brighton, Illinois with her husband Jeff of 25 years and her son Jeffrey, age 17. Jill and her family enjoy living in the country with their dog, Lacey and their 13 chickens. In her free time she enjoys going for long drives and traveling as much as possible. In the short three years she's been with us, Jill feels that our office has become her second family.
OFFICE HOURS
---
Monday
8:00am - 11:30am
3:00pm - 6:00pm
---
Tuesday
By Appointment
---
Wednesday
8:30am - 11:30am
3:00pm - 6:00pm
---
Thursday
By Appointment
---
Friday
8:30am - 11:30am
3:00pm - 6:00pm
---
Saturday
9:00am - 11:00am