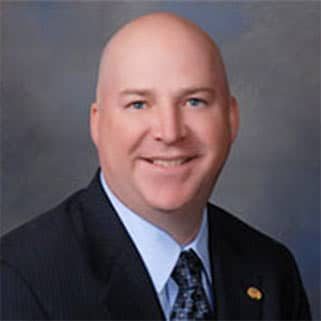 Chiropractor
Thad Vuagniaux D.C
Dr. Thad S. Vuagniaux was born and raised in Edwardsville, IL. He got his Bachelors of Science degree from the University of Illinois and his Doctorate from Logan University. Having played college soccer, he was always interested in health and fitness but it wasn't until being accepted into the Sports Medicine program and U of I did he realize he wanted to become a chiropractor.
In chiropractic school, he was introduced to Upper Cervical Chiropractic and hasn't looked back. After graduating and opening his private in the Glen Carbon/Edwardsville area, he was invited to start teaching Upper Cervical to other doctors. He was also the Co-Founder of Upper Cervical Health Centers of America; an international franchise with offices in the United States and Italy. He has been a guest lecturer at hundreds of seminars and programs across the country.
He was elected and served on the International Chiropractic Association's inaugural Council on Upper Cervical Care. Dr. Vuagniaux was instrumental in developing the curriculum for the intensive, 3-year Post-Graduate Diplomat in Chiropractic Upper Cervical Procedures.
He, along with his wife, Dr. Nikki (also an Upper Cervical Doctor), and daughter Kayleigh, live in Edwardsville, IL. In his spare time, Dr. Thad enjoys traveling with his family and friends, boating and riding his Harley Davidson motorcycle.
Chiropractor
Nikki Vuagniaux D.C
Dr. Nikki Vuagniaux was born and raised in the Metro East area as well. Earned a degree at the University of Illinois and owned a graphic design business for a few years before her first Upper Cervical correction. That correction made such a profound impact on her health that she decided to go to Logan University and join her husband in practice. Her interests include fitness, nutrition and natural healing techniques. She enjoys yoga and running and has completed 2 marathons. She enjoys spending time with her family and friends who are the biggest blessings in her life.
OFFICE HOURS
---
Monday
8:30am - 11:30am
3:00pm - 6:00pm
---
Tuesday
Closed
---
Wednesday
8:30am - 11:30am
3:00pm - 6:00pm
---
Thursday
Closed
---
Friday
8:30am - 11:30am
3:00pm - 6:00pm
---
Saturday
Closed